As a global bank with a discernibly Asian focus, HSBC has been ramping up its "green" capabilities and aspirations in view of its clients' growing sustainability and environmental requirements as well as its own journey towards achieving net zero.
In recent weeks HSBC's Greater Bay Area (GBA) Sustainability Fund has almost doubled to US$9 billion, from an initial size of US$5 billion, amid an enthusiastic market response.
Meanwhile, HSBC Asset Management has made its first investment under its Asia-Pacific-focused, mid-market, value-added energy transition infrastructure strategy, investing in Tekoma Energy, a Tokyo-based developer, owner, and operator of solar photovoltaic power projects across North Asia.
Just over a year ago, the banking group appointed Sunil Veetil to the newly created role of regional head of sustainability for commercial banking, Asia-Pacific.
Based in Singapore, Veetil is responsible for executing HSBC's sustainability strategy in commercial banking across the region, which includes originating, structuring, and managing clients' transition strategies.
He is also charged with shaping the environmental, social and governance (ESG) risk agenda and embedding the ESG culture internally and externally as well as working with regulators and other external stakeholders.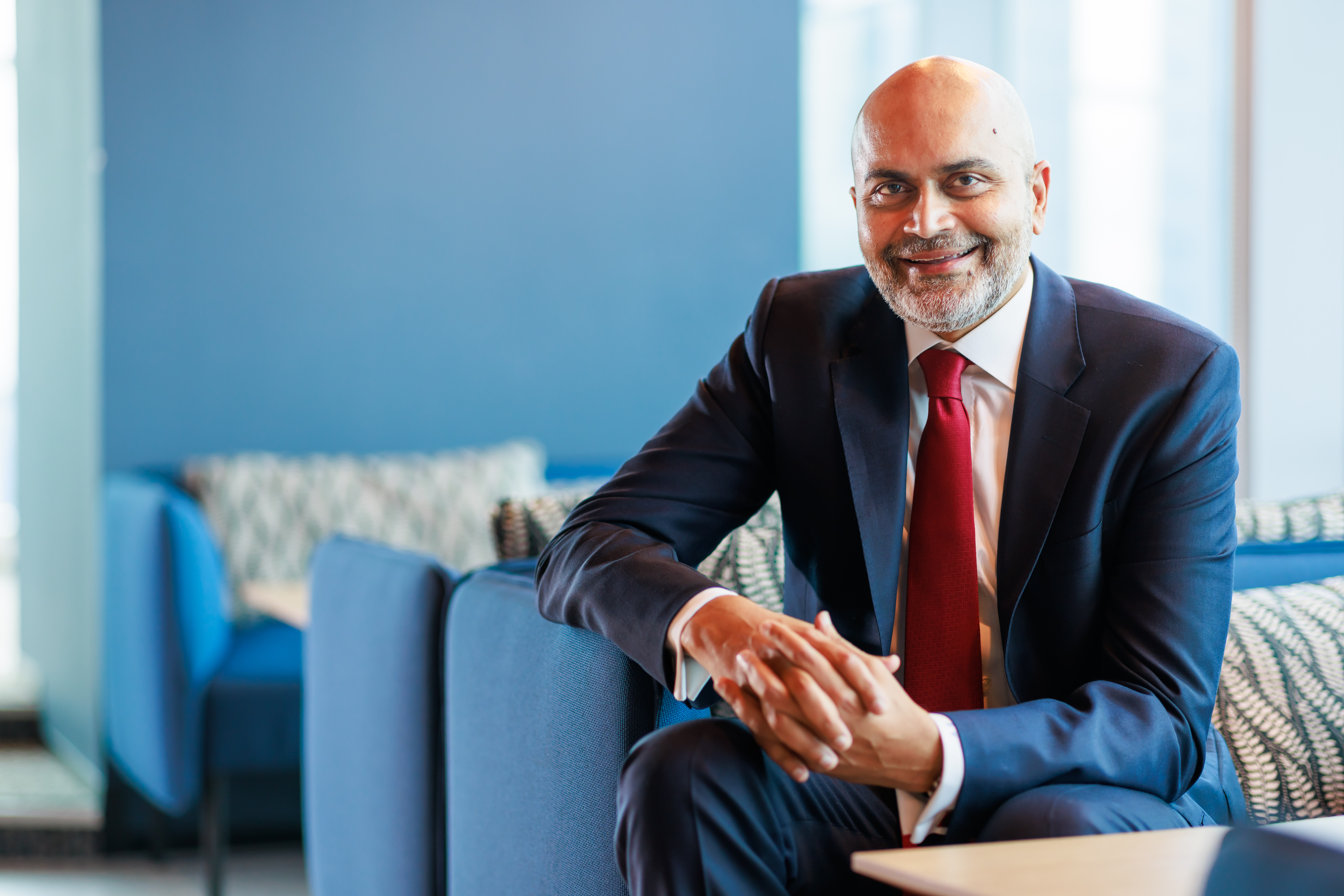 Sunil Veetil: HSBC regional head of sustainability for commercial banking in Asia-Pacific.
Unique challenges
The Asset recently spoke with Veetil about his new role and how the bank is helping clients to remain committed to their sustainability agenda despite the challenging economic environment.
The Asset (TA): With a broad portfolio of commercial banking clients in Asia, you must have seen a great disparity in their sustainability journeys. How are you helping them?
Sunil Veetil (SV): If we sort them by level of sophistication, our nearly 400,000 commercial banking customers in Asia-Pacific can be grouped into three buckets.
There are clients who are very sophisticated, who have a transition plan in progress. They tell banks like us what they want and ask what we can do for them.
Then we have clients who understand the need to transition but aren't sure how to advance their agenda as yet. They are looking for guidance and help on their journey and to understand their financing options.
Finally, there are companies, often SMEs, who are not as well-resourced and perhaps are more exposed and vulnerable to policy changes, regulatory changes, and supply-chain changes.
Each client faces unique challenges that stem from the economic and social issues in their market as well as regulations in their industry and sector. Our approach is to work closely with them, understand their specific needs and goals, and provide guidance and support to help them transition to more sustainable business models.
TA: In the current challenging economic environment, are clients remaining "on board" as regards their own and the bank's sustainability goals/strategy?
SV: Nearly 95% of our commercial banking clients expect to move away from environmentally and socially challenged business models within the next five years. There is near-unanimous buy-in, support and understanding among our clients on the importance of sustainability.
One thing is certain: the regulations are coming, and they will lead to fundamental changes, whether you're a sophisticated client or you haven't started your transition journey.
Client engagement
TA: Where are you seeing the biggest challenge for your clients – is it in the hard-to-abate dirty industries or industries like fashion manufacturing or other sectors?
SV: We encounter challenges across various sectors, but some industries face particularly difficult transitions. Hard-to-abate industries such as coal, oil and gas, power and utilities, steel, cement, aviation, and shipping are among those that require significant efforts to adopt sustainable practices.
These industries have a higher carbon footprint and face complex issues related to decarbonization. Additionally, we are working with clients in industries like fashion, manufacturing, textiles, and leather, where supply chain sustainability and environmental impact are critical issues.
These sectors require support in implementing cleaner and more sustainable business models. Our approach is to engage with these clients, help them understand the importance of transitioning, and provide financing and guidance to facilitate their sustainability efforts.
TA: How is the demand for green loans and/or sustainability-linked loans from your commercial bank clients growing? Can you give typical examples?
SV: Our sustainable finance volume is growing much faster than our conventional volume, and I expect the former to double over the next two years.
Most of our sustainable finance is for clients trying to transition, who are looking to get cleaner and better equipment for their businesses. We're supporting many suppliers and SME customers, helping them move to greener business models, which is why our sustainable finance volume is growing so fast.
Of course, there are bonds and large debt facilities for big projects in renewables, such as in green hydrogen. And as a group, HSBC aims to provide between US$750 billion and US$1 trillion of sustainable finance and investment by 2030.
Among our recent deals are:
Prime Infrastructure (Philippines) – Green term loan to finance the parent's capital infusion into a greenfield 140-megawatt solar plant while the bid bond is used to support the development of the Terra Solar 3,500MW solar PV plus 4,500MW battery storage complex. This is the largest combined solar and battery plant in the world under development.
Elof Hannson Group (Singapore) – Sustainable trade instruments to support the procurement of Forest Stewardship Council-certified pulp from selected suppliers and mills, helping them foster a more sustainable supply chain in the sourcing of forest products for the pulp and paper industry.
Specialist support
TA: Since you took on the new role have you had to recruit more sustainable lending specialists, and how deep is that talent pipeline in the region?
SV: Yes, we are adding resources in every market we operate in because that's where most of the client conversations happen. At a regional level, we are building out specialist support in key sectors such as infrastructure and the new economy.
We have a three-pronged strategy. The biggest piece is helping our existing clients' transition. The second piece has to do with supply chains. Because we are the largest trade finance bank in the world and the leading sustainable finance bank in Asia, we have the expectation to lead the end-to-end transition of supply chains.
The third piece is the new economy. A lot of transition work is leading to new investments in infrastructure, whether it's renewables, batteries, hydrogen, or carbon capture. There's so much happening in that space.
So we have a team focused on transition, a team focused on sustainable supply chains, and a team focused on the new economy, and there has also been a cultural shift in how we educate our thousands of relationship managers so that they can better educate and support our clients.