Treasury Review 2020 Survey Series in association with Standard Chartered
Embracing the new normal of digitalization
Pandemic alters the way treasury management professionals approach technology
16 Nov 2020
|
Asset Benchmark Research
A global watershed moment, the Covid-19 pandemic has reshaped our behaviours dramatically in a short space of time and has acted as a catalyst for innovation and digitalization. Indeed, the global health crisis has been a wakeup call for treasury management professionals such as CFOs and treasurers, many of whom were accustomed to managing their business financial operations on manual platforms such as excel spreadsheets.
Data from Asset Benchmark Research's (ABR) Treasury Review 2020, conducted during the early part of this year, revealed some shifts in the way treasury management professionals have been approaching technology usage during these difficult times. Implementation of ERP (enterprise resource planning) systems regionally or globally for instance increased from 60% of participants last year to 71% this year, with SME participants experiencing the biggest rise in ERP usage from 51% to 63% in the past year.
The uncertain conditions of the pandemic may also have contributed to the slight increase in interest around using mobile devices for corporate banking services. In 2019, 43% of participants interviewed used or were planning to use corporate mobile banking services versus 48% recorded in 2020. The markets of Hong Kong (54%) and Singapore (60%) had the highest proportion of treasury professionals using mobile corporate banking services compared to other locations in Asia.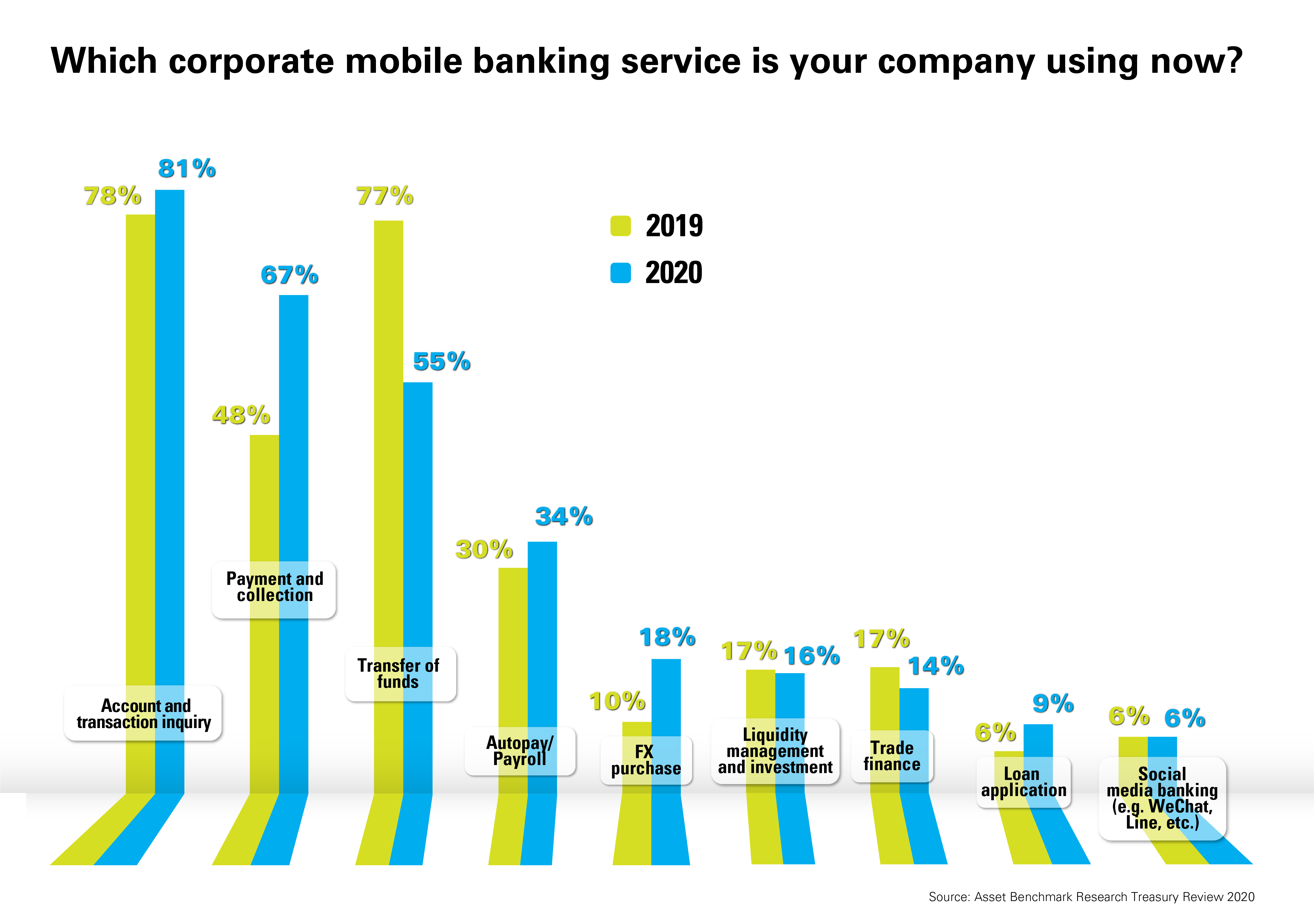 In terms of usage, the majority of participants used corporate mobile banking services for account and transaction inquiries similar to last year's data. However, there was interestingly an increase of mobile payments and collection services, suggesting that there is a growing acceptance of companies using mobile money or e-wallet services to provide instant transfers to different parties.
Conversely, payment processes for the second year in a row, were the most popular (31%) function expected to benefit from digital disruption. If social distancing measures are prolonged beyond this year, expect a greater demand from companies wanting to conduct digital payments. Interest in payment processes disruption was followed by customers/receivables management (16%) and liquidity management (14%).
Instability caused by the pandemic's economic impact has also prompted companies to prepare for the worst, placing greater importance on financial forecasting and risk management models. Key to allowing this is having real-time data from a number of sources across an organization and the ability to rapidly interpret the data.
ABR's Treasury Review 2020 supports this view, revealing that artificial intelligence and big data, respectively, were the top two emerging technology tools treasury professionals would like to hear more about. Appeal differed slightly depending on the market, with mainland China and Taiwan based respondents more interested in big data solutions compared to Hong Kong and Singapore participants, who were more interested in using artificial intelligence to solve their treasury pain points.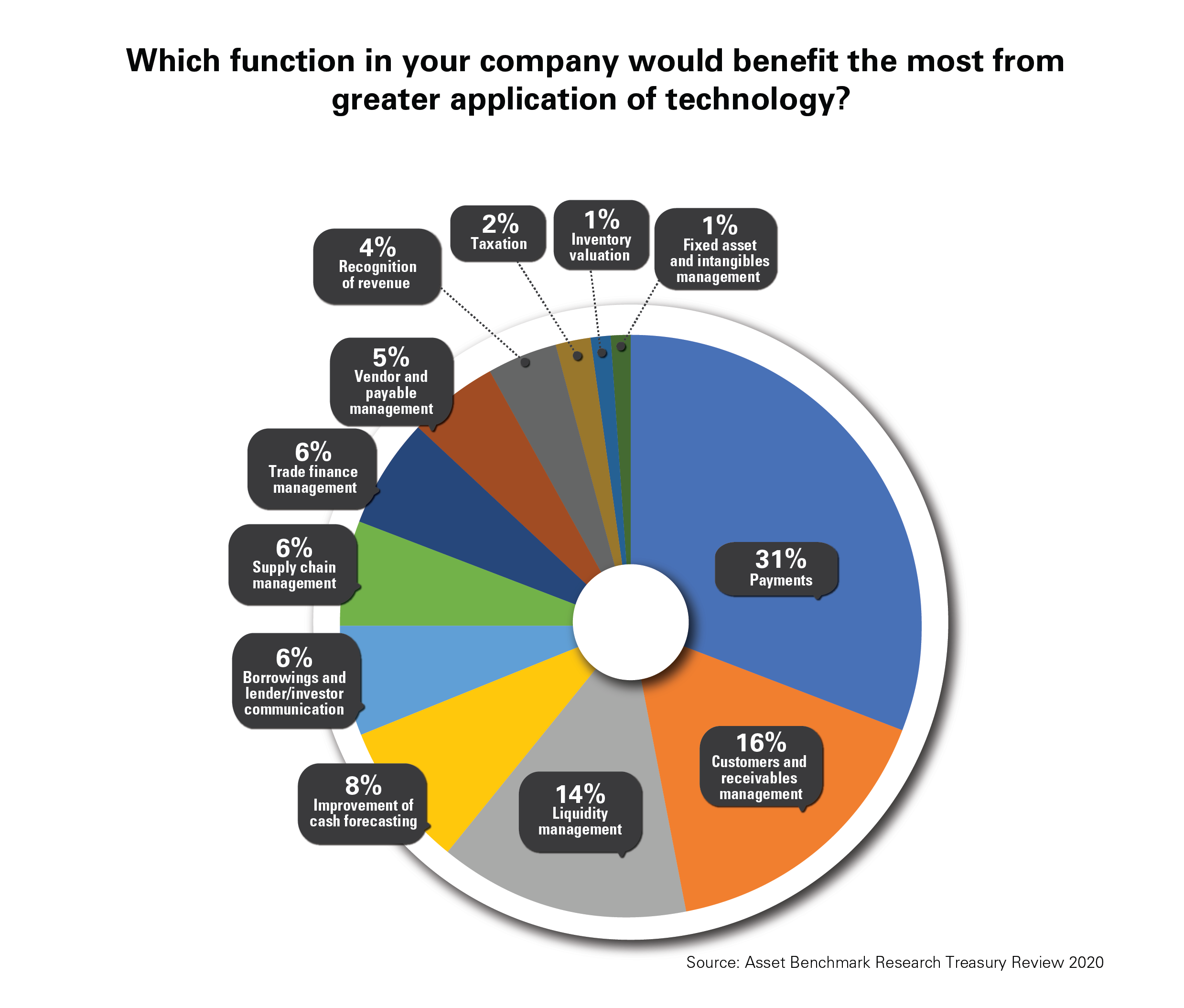 "We are seeing if business processes can be further automated or digitalized so that the lives of business users can be improved. We also want to give real-time information to business leaders so that they can make better informed decisions. Digitalization is a key message we are driving throughout the group," shares a Malaysia based CFO of a multinational chemicals company.
Awareness of application programming interfaces (APIs) appeared to grow over the past year being the third most popular technology tool participants in 2020 were interested to hear more about. This was especially true for Singapore based respondents, indicating that companies there were more receptive about increasing connectivity with their banking partners and stakeholders in the community such as third-party payment providers.
As with previous years, concerns over cybersecurity and safeguarding of sensitive information (53%) remained the top reason why treasury management professionals did not pursue digital projects, followed by not having enough information on digital solutions (36%) and bank partners being unable to offer suitable services (20%). SMEs differed from larger companies with a greater proportion suggesting that existing bank partners weren't able to offer suitable digital services.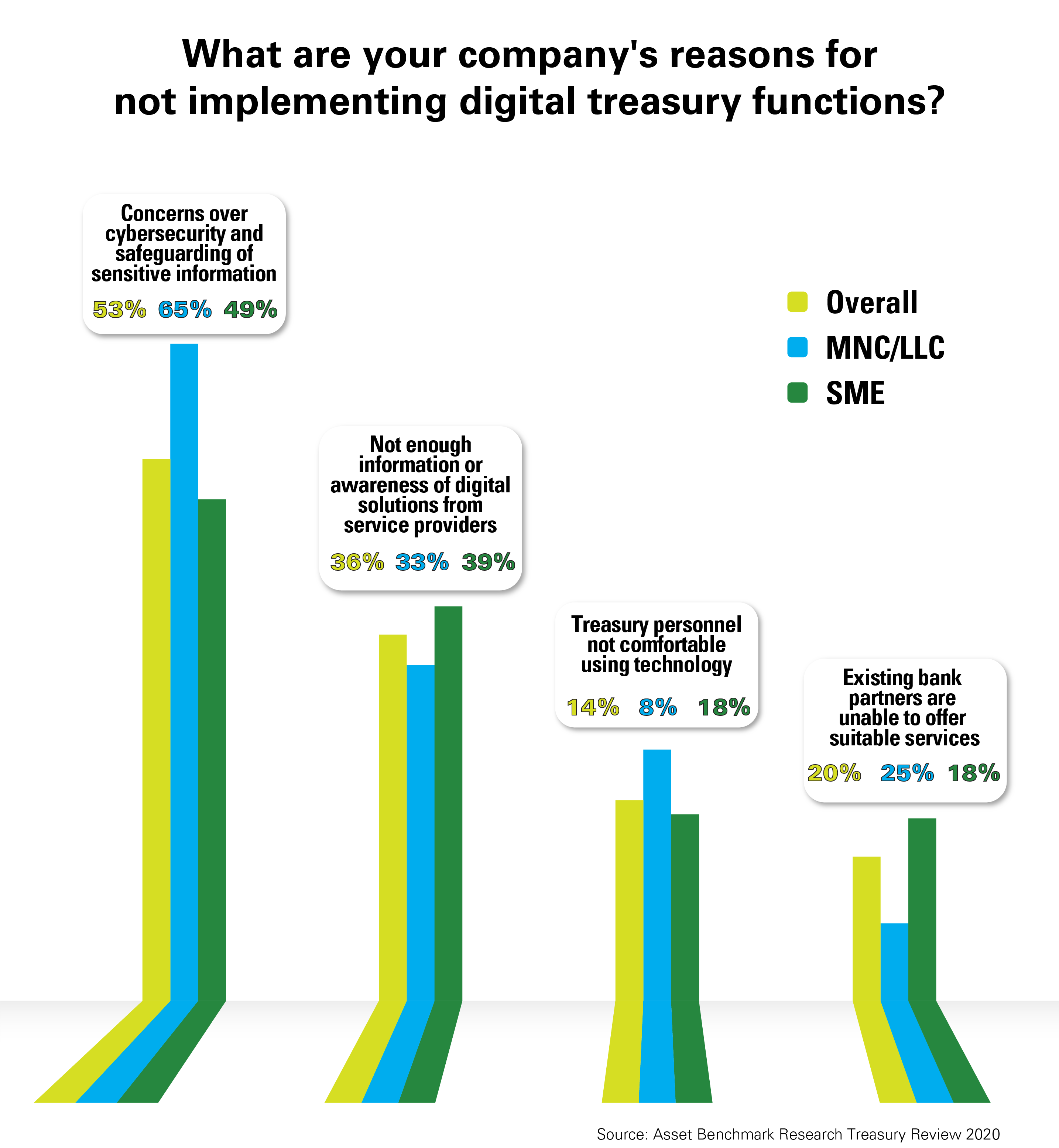 However, expect this skeptical mindset to change for both companies and banks as the uncertain conditions caused by the pandemic require more digital interactions. Sooner or later, companies will have to face tough decisions over balancing digital adoption risk with ensuring their business can run as usual in the post-pandemic world.
About Asset Benchmark Research's annual Treasury Review
Conducted since 2013, ABR's Treasury Review surveys corporates across Asia on an annual basis to understand the challenges faced by corporate treasurers and CFOs and the solutions they consider best suited to navigate financial markets. In 2020, around 700 corporate finance representatives participated in the survey, led by financial decision-makers in Greater China, India and Singapore. Based on annual turnover, 47% of respondents are small and medium-sized enterprises (less than US$250 million turnover per annum), 21% are mid-caps (US$250 million to US$1 billion turnover per annum) and 32% are large corporations (more than US$1 billion turnover per annum).
View from Standard Chartered
Many businesses were already committed to digitisation prior to Covid-19 but the pandemic has really helped to accelerate adoption. Treasury departments have been using technologies such as RPA (robotic process automation), API (application programming interfaces) and data analysis to increase the efficiency of treasury processes and improve areas such as cash flow forecasting. Moreover, they have been embracing greater use of digital channels in their cash management processes as cheques and other paper instruments become harder to process with many staff working remotely, away from their normal processing centres.
Both consumers and merchants have been moving away from cash and paper instruments as they look to streamline and digitize the way they pay, both online and in-person. Businesses want to increase the level of digital payments whilst consumers are further embracing online channels and apps to buy products and services which by their nature necessitate greater use of digital payment methods. Many CFOs and treasurers are still relying on legacy cash management processes and channels that are not suited to manage the increasing number of transactions they are receiving through online and mobile channels. Therefore, they have initiated projects to upgrade their banking services and internal processes. One example is the use of APIs to send instant payments and receive funds confirmations in real time.
The pandemic has also placed additional emphasis on using mobile apps in day to day treasury management. As clients experience the power of 'banking at your fingertips', receptiveness towards corporate mobile banking solutions has grown. This dynamic has accelerated against the backdrop of Covid-19 given that digital interactions are becoming a primary way of doing business for clients. Having mobile app solutions is one of the main asks in the RFPs (request for proposal) from our corporate clients, especially the use of a soft token app that can be used for login and approval of transactions. Proliferation of new technologies supporting biometric authentication, jail break detection, tamper proofing and other security solutions has given much more confidence to our corporate clients in the use of mobile solutions.
Another key area where we are seeing increased client demand is having key business insights delivered directly to their mobile or tablet devices. Our clients want to have easy access to their financial data in an "easy to consume" visualization. Hence, having these insights delivered in a mobile friendly manner coupled with push notifications (for actionable insights and alerts) is very important.
According to Asset Benchmark Research's Treasury Review 2020, there is a growing interest in CFOs and treasurers hearing more about big data/artificial intelligence (AI). Corroborating this, in recent years we have witnessed significant increase in the general awareness of machine learning (ML) and AI. The world of business and finance is wide open to disruption by ML. For example, the same ML model that helps to suggest the next movie on Netflix can be used to recommend a best fit banking product. More specifically, CFOs and treasurers can benefit from advanced portfolio and balance sheet optimization tools, client insight apps, predictors, and data visualization and budgeting tools.
In many cases deployment of ML and AI methods allows companies to remove human biases in order to make objective decisions supported by data.
When it comes to financial technology (fintech) partnerships, generally clients are keen to review what fintech companies have to offer, however, we have not seen widespread adoption. Most fintechs are very niche in their offering and might not offer a significant enough benefit or are considered a risky investment. Many of our clients want banks like ourselves to partner with fintechs to provide them the expanded capabilities and offerings, drive value to end clients and offer differentiated platform capabilities.
Standard Chartered sees these partnerships as integral to our strategy. We have either invested in those that complement our strategy like Assembly Payments, that specialises in supporting online marketplaces. We have also collaborated with those that enhance our position in the market like Linklogis, that provides deep tier trade financing, or Alipay for instantaneous cross border payments, both of which use blockchain technology to power their services.
While there is general excitement over new digital solutions, treasurers are first and foremost risk managers and therefore tend to be risk averse. They want to know that a digital solution is stable and there for the long term. Several treasurers have told us they worry about the longevity of fintechs and whether many will be around in a year or two. More often than not the drive for digital adoption is coming from the business, that in turn is trying to respond to their customers or is trying to support new digital channels. Moreover, different industries are evolving at different speeds. There are various factors companies consider when looking at digital solutions including maturity of the product and time and cost of integration. All are relevant and important factors when considering the pathway to digitisation.