Moody's signals credit rating upgrade for Vietnam banks
US rating agency cites strong economic growth and modest impact of Covid-19 on banking system
24 Jun 2021
|
Nguyen Tuong Thuy
Moody's Investors Service has signalled that it may raise the credit rating for Vietnamese banks in the medium to long term after the sector received a positive outlook in the US rating agency's latest report.
While banks in the Southeast Asian nation have retained an average rating of "Ba3", which is non-investment grade/speculative, they are the only ones in the world's emerging markets to receive a positive outlook, which reflects the country's strong economic growth and the relatively modest impact of the Covid-19 pandemic on its banking system.
In Moody's Global Emerging Market Banks Chartbook June 2021 report, released on June 23, the EM banking system outlooks are split between "stable" and "negative", with just Vietnam securing a "positive".
The "stable outlook" is largely for banks in Asia, Latin America, and large economies in emerging Europe, which reflect strong loss-absorbing buffers. Meanwhile, the "negative outlook" is generally given for those in the Middle East, Africa, and smaller economies in emerging Europe, which are linked to their challenging operating environment.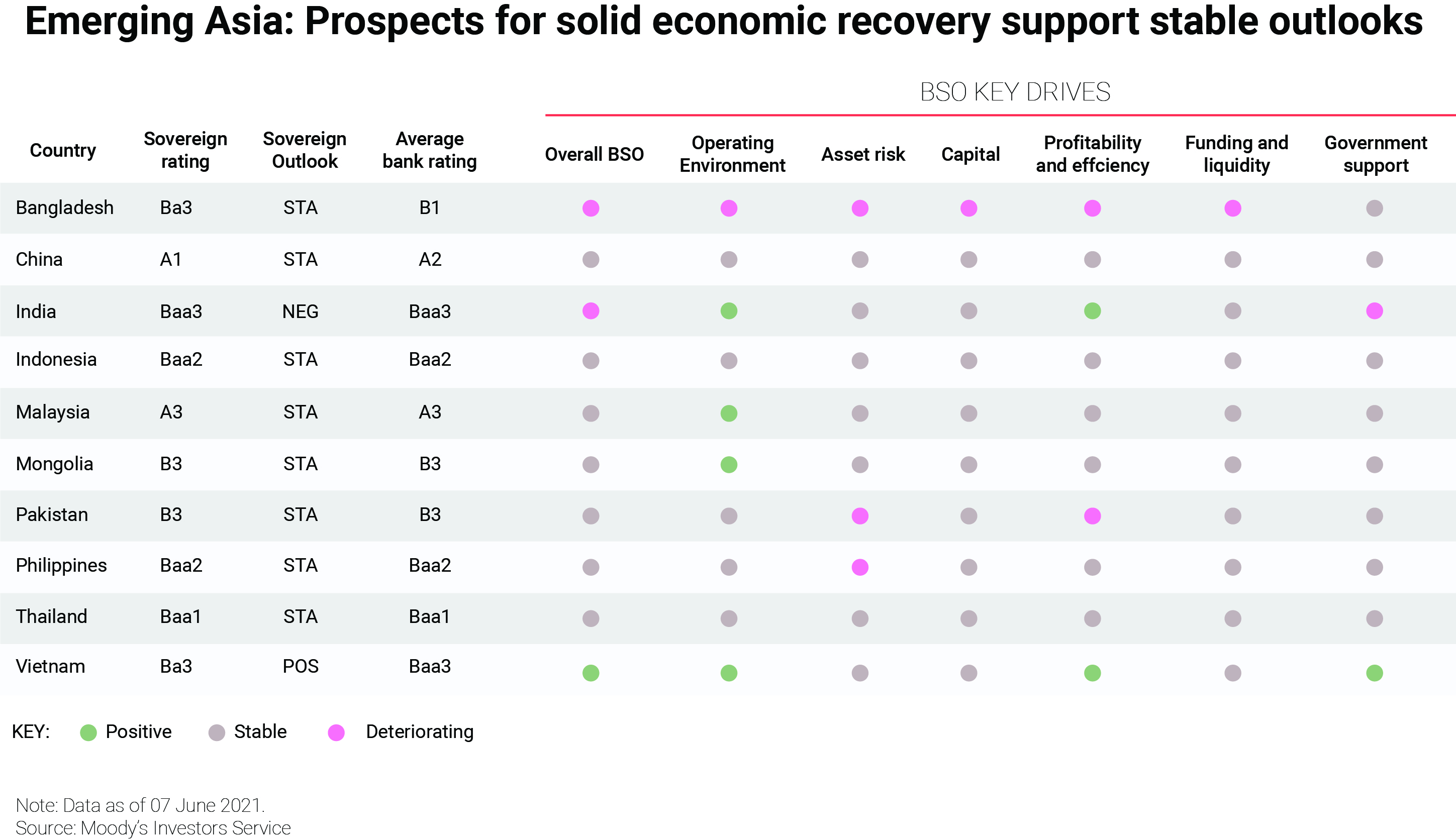 As for emerging Asia, Moody's says banks in Bangladesh, Pakistan and Vietnam have modest capital, but their stable profitability and modest asset growth will help maintain steady capital levels. Capital will remain strong for banks in Indonesia, Malaysia and the Philippines thanks to their steady profitability and modest credit growth, that is likely to remain below pre-pandemic levels.
Indian banks' improved loss-absorbing buffers will cushion against an increase in non-performing loans because of the severe second wave of the coronavirus in the South Asian country, says the rating agency.
In terms of profitability in Asia, Moody's notes that profitability will be stable, although loan-loss provisions will remain high. It adds that Vietnamese banks' profitability will continue to improve, supported by an increase in net income, fee income and a decline in loan-loss provisioning expense.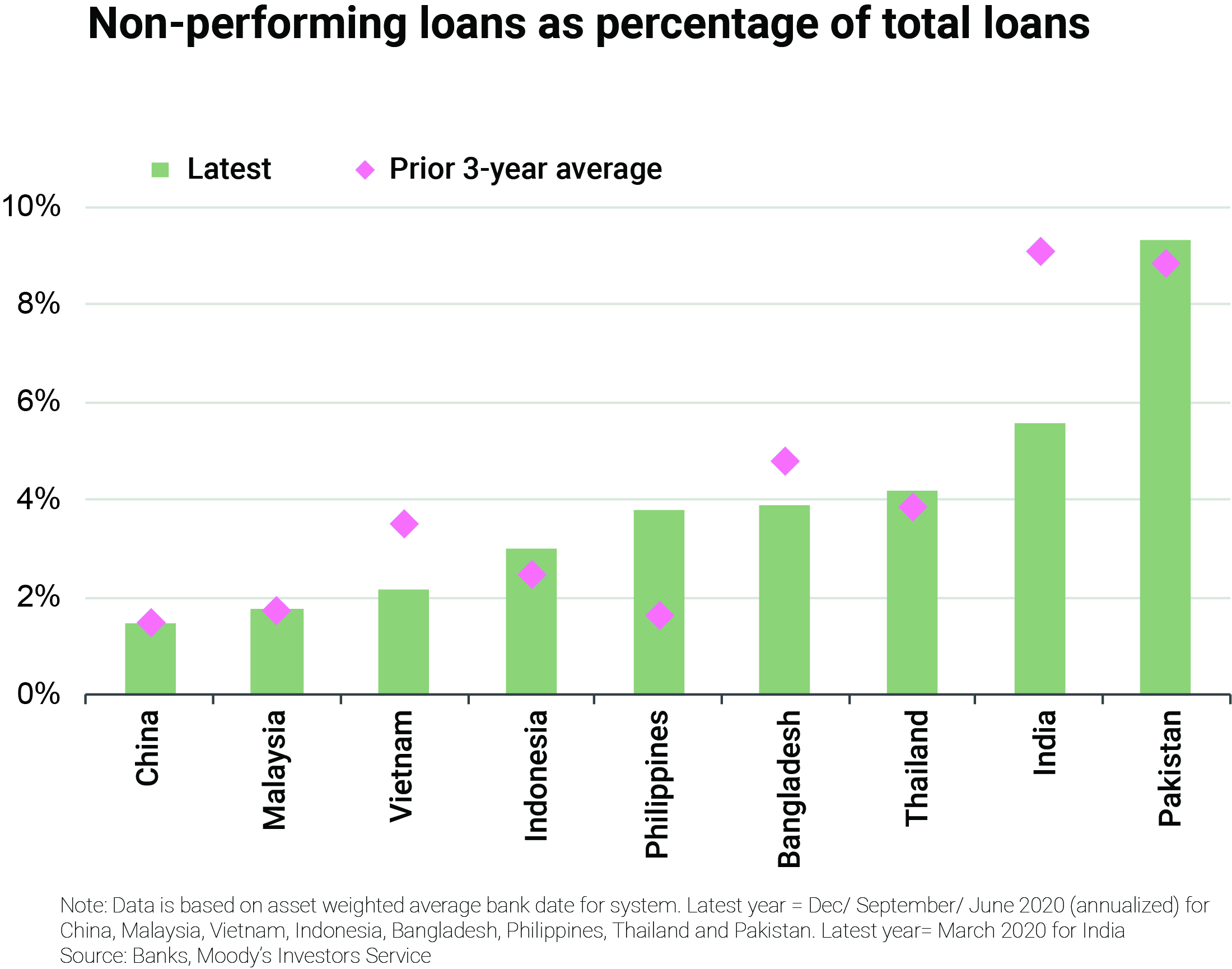 Meanwhile, Indian banks' profitability will gradually improve, driven by lower loan-loss provisions, although their average ROA (return on assets) of 0.3% is much lower than the regional average. Profitability of banks in Bangladesh and Pakistan will remain under a strain as loan-loss provisioning expense will remain high, as they did not proactively build loan-loss reserves in 2020.
As for interest rates, Moody's says interest income in Asia will increase as credit growth picks up, while cost efficiency is gradually improving.
Providing details, the rating agency notes that Indonesian banks' net interest margins (NIMs) will increase gradually as they reprice time deposits at lower rates amid abundant liquidity. In addition, their strong access to large volumes of low-cost deposits and high lending rates will help them maintain the strongest NIMs in the region.
In the world's most populous nation, Chinese banks' focus on cost discipline and use of technology will help improve cost efficiency, as measured by cost-to-income ratio. In contrast, cost efficiency will be low for banks in India, the Philippines and Bangladesh because of weak revenues and high operating costs.
Asian banks will maintain ample liquidity with little dependence on market funds, supporting their credit profiles, the report says. However, Chinese banks have a higher share of market funding than most banking systems in emerging Asia. Such funding is mainly sourced from the domestic interbank and bond markets, reflecting strong links among the domestic financial institutions.