With digitalization now an irreversible trend in the financial services industry, a growing number of asset management firms are exploring the opportunities presented by blockchain technology. In Asia, about 86% of asset managers plan to offer tokenized funds as part of their product range within the next three years, a new report finds.
However, investors in the region have limited exposure to the new investment vehicle as access is dependent on reliable internet connection, buy-in limits, and the credentials required to open brokerage accounts, according to a new survey by global funds network Calastone.
Asia-Pacific and the United States are leading the way in the adoption of tokenized funds, with close to 40% of asset management firms in the two markets saying that they are actively implementing tokenized projects in their businesses.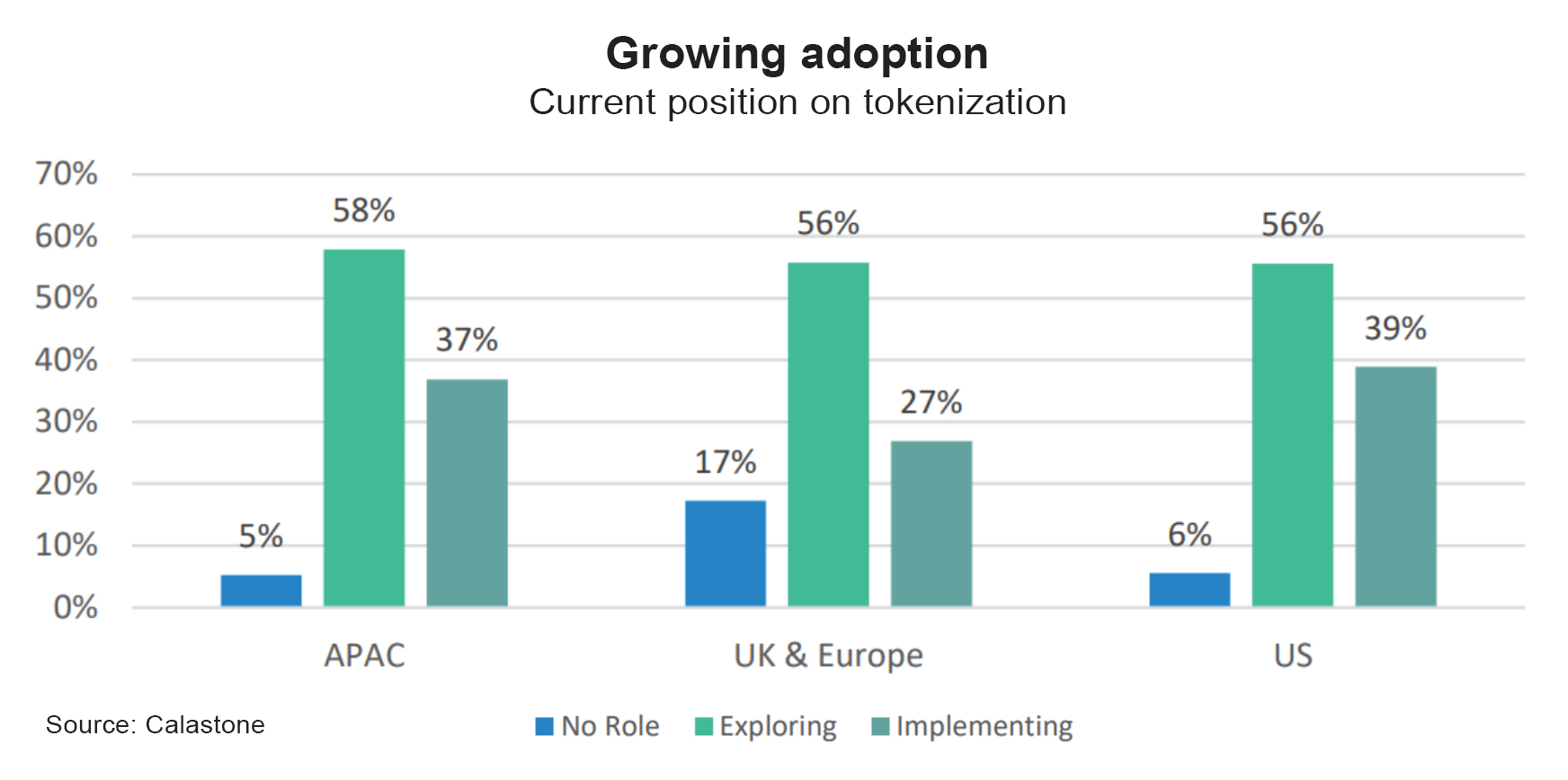 Tokenization advantage
Cost saving is considered by most Asia-based asset managers as the top benefit from tokenization as automation reduces the cost and time required for processes such as pricing and accounting, while allowing for instant settlement of transactions. Tokenization also eliminates intermediaries, thus significantly decreasing the transaction cost.
Also, tokenization of funds can create more personalized investment experiences. Since tokenization reduces the minimum investment amount, investors gain easier access to multiple funds. Tokenized funds also enhance liquidity management and improve access to new asset classes.
"We believe that tokenized investment vehicles can ultimately be presented at a much lower price point, which increases access to personalized products across all investor types through our asset manager partners," says Justin Christopher, head of Asia at Calastone. "While our platform is built on top of a private permissioned blockchain, we will be connecting with other private and public blockchains to enable new distribution channels."
For institutional investors, however, the most frequently mentioned hurdle to engagement with digital assets is the lack of a central bank digital currency (CBDC), rated by over 80% of respondents as the first or second most prominent obstacle for the industry, followed by regulatory uncertainty, according to the Calastone report.
"There are steps forward taking place around the world to make this happen from a regulatory and technology perspective. At Calastone, we are looking at integrating stablecoins and even other stores of liquidity such as money market funds to enable a better experience and operating model," Christopher notes.
Tokenization platform
SC Ventures, Standard Chartered's innovation and fintech investment arm, has launched a tokenization platform called Libeara, which in turn has enabled fund manager FundBridge Capital to create the first-ever tokenized Singapore dollar government bond fund for accredited investors.
"We care deeply about not only creating a token representing an asset but also about how close the token is to the actual asset. Ensuring that FundBridge's investors can buy native tokens, where each token represents a unit of the fund, is central to the infrastructure of the tokenization solution that we have created for FundBridge," says Libeara founder and chief executive officer Aaron Gwak. "To boost credibility and structural integrity, the fund will be working with an international credit rating agency to have it rated – a first in the world. The agency will be reviewing both the underlying asset quality of the components of the fund and the token structure as well."
The tokenization platform was formed following successful proof-of-concept projects in the Philippines, Singapore, Hong Kong and Ghana, where Libeara studied the need to correctly blend technology with existing securities regulations to provide the optimal structure for token holders.
While a tokenization platform opens new opportunities for fund managers, research by accounting major EY reveals that both institutional and high-net-worth investors prefer accessing tokenized assets through traditional intermediaries such as brokers/dealers, exchanges and wealth managers.
This preference for established distribution channels indicates the importance of leveraging existing infrastructure and trusted intermediaries to facilitate the integration of tokenized assets into investment strategies.